Gamification strategies for the retention of talent in the contact center
Since our foundation, more than 20 years ago, in TecnoVoz we always believed that technology is intimately associated with people. A problem is never only technological. This is why the design of our solutions considers first what people will do with them.
In this line is that a few days ago we announced the addition of Hurrah!, a gamification platform oriented to motivation and performance monitoring for teams of people in contact centers to our Approach suite. We believe that gamification, in addition to stimulating sales and improving customer service KPIs, helps with the retention of employees and, ultimately, improve the business.
Figures on rotation in contact centers are alarming. Several studies coincide in estimating that an average worker maintains his or her work for approximately 2 years. Not much more. At the same time, companies invest ample resources to hire only the best people, and once they have them, they want to keep them. For an employee to have a long-term commitment it is necessary to develop a culture that builds strong ties with them. They like to verify that a long-term commitment requires an effort in both directions.
In order to reach this objective – that for an industry such as contact centers, rather than a problematic one is its Achilles heel – we believe that gamification strategies provide a series of interesting solutions.
In TecnoVoz we synthesize the contributions in the equation of the 5Rs:
Reward: The awards you give your employees must go beyond monetary compensation, they have to address their emotional needs. This contributes to the positive culture of the company and can be a good moral builder as well. For that it is good to create an internal system with avatars, badges, a collection of virtual articles, pass levels, and build rankings to qualify who does more.
Revenue-sharing: Link a portion of the salaries of your employees to the profitability of the company. This will align their interests with the revenue and profit goals and serve as an inherent incentive to stay in the company as it grows. It is also key to show the results of that performance to everyone else.
Responsibility: It's good to show people that the company relies on them giving them responsibilities that allow them to grow. Encourage them to acquire new skills. Offer opportunities for continuing education.
Respect: People want to know that they are respected and appreciated. We can all easily forget the things someone said, but we always remember the way they made us feel. Remember that a game is an experience, an event.
Relax: As far as possible, be generous with the re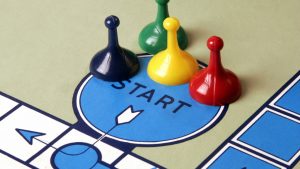 st time. Despite the difficult economy, try to create a space for play, as well as time for sick days, holidays, births, etc. Regulating the workflow can be very beneficial for long-term working relationships.